I left the northeast part of Sicily early and hit the road; it was roughly 180 km, or a 2 1/2 hour drive to my next destination in the southeastern part of the island. Known for it's glorious Baroque cities and home to the Magna Graecia's most magnificent ancient city, the Val di Noto attracts lots of tourists. The baroque beauties of Noto, Modica and Ragusa are all on my agenda for this part of my road trip, as well as the larger town of Siracusa (Syracuse).
The towns of Val di Noto
Sicily was devastated by an earthquake in 1693, and while this event caused serious damage to many towns, it also provided an opportunity to redesign the buildings in the "new style" of architecture of that time known as baroque. There are 8 towns in the Val di Noto region that are known for their Sicilian baroque architecture; collectively they were designated a UNESCO World Heritage Site in 2002. More recently, this area has also become known for it's gastronomic pleasures: Modica for it's chocolate and Regusa with many Michelin starred restaurants.
In my opinion, these are towns meant to be wandered through slowly, with no particular agenda other than stopping into churches, climbing bell towers, popping in for gelato, or enjoying an aperativo at a sidewalk cafe. I found these towns to be particularly enchanting in the late afternoon sun, when all the buildings turned a lovely honey yellow.
I read somewhere that Sicily's baroque architecture "was all about ostentation", and it's on full display here, that's for sure! Apparently it was important for the wealthy families to flaunt how rich they were by building fabulous homes for themselves, but also giving back by financing churches and public buildings as a demonstration of wealth and power. The best architects, artists and craftsmen were employed during the reconstruction, resulting in lavish churches, mansions and civic buildings - many lining beautiful avenues and spectacular piazzas (main squares). To view my photo diary from the baroque towns of Noto, Modica and Ragusa, see the slideshow below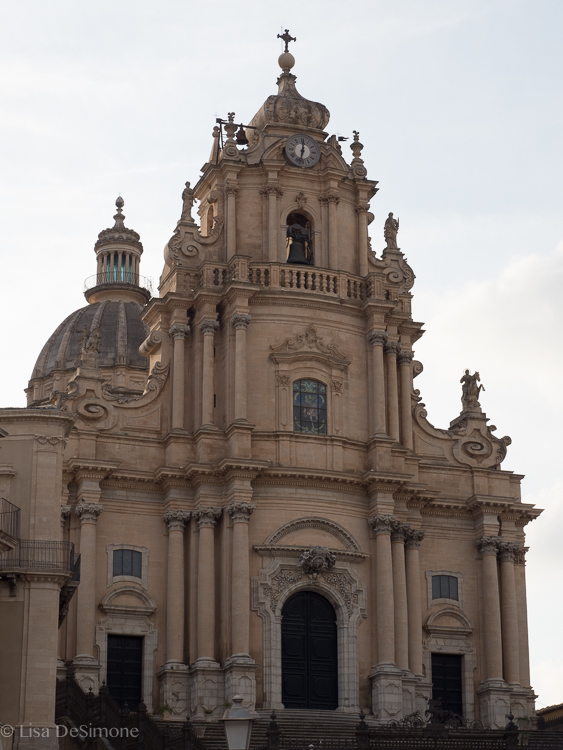 Siracusa
Syracuse is an historic city in Sicily, notable for its rich Greek history, culture, amphitheaters and architecture. This 2,700-year-old city played a key role in ancient times, when it was one of the major powers of the Mediterranean world. Situated next to the Gulf of Syracuse beside the Ionian Sea, it's a stunning location for this unique city. All of the archeological ruins are located on the "mainland" city, whereas the lifeblood and real core of Sicily (IMO) lies on the island / mini peninsula of Ortygia.
Tip: Don't be fooled, it's not as if there is large bridge connecting the two areas - in fact, it's a short stone bridge that you may not even notice which connects the two areas. That said, the archaeological sites are quite a distance from the other areas you want to explore on Ortygia. I parked in the parking lot called Parcheggio Talete, located near the outdoor food and fish market. I then walked to the Duomo and used the Hop On - Hop Off bus to transport me to and from the ancient sites on mainland Syracuse. There is actually a stop right at the Parcheggio, which comes in handy.
Sicily continues to surprise me! After seeing so many churches on the mainland of Italy and in Sicily, I didn't expect to be so wowed by the Duomo of Siracusa! What makes this church so unique is that it was literally built on and around a Greek Doric temple that dates from 5th century BC!!! Most of the columns were left standing and many are visible on the exterior walls and inside the church as well. Even the stone baptismal font was originally a Greek vessel. The Piazza del Duomo outside the church is another example of baroque town planning, rimmed by great palaces and the Duomo, it sits on what was once Syracuse's ancient acropolis.
After meandering through the streets and absorbing the local culture, my stomach started to rumble and I knew where I needed to head to next. I absolutely love an authentic Italian outdoor mercado (market). Give me the choice of visiting the local mercado over (yet another) ancient ruin, and I will take the market any day. And well…that's what happened to me in Siracusa!
Held every morning except Sunday, the mercado in Ortygia is everything one expects an Italian market to be: lots of shouting and gesturing by the fish mongers, locals with bags full of ripe blood oranges (these are a staple in Sicily and oh-so-fresh), smells of cheese in the air, barrels full of herbs, stalls loaded with the catch of the day, fruits & vegetables of all shapes, sizes and colors proudly displayed by local vendors. It was a dream for me.
I didn't realize it when I first saw the line outside Caseificio Borderi, but this small, unassuming sandwich shop in the mercado has been billed as a "must do" when one finds themselves in Siracusa. Lorded over by the colorful sandwich-maker Andrea Borderi, this was the perfect place to fill my empty stomach. Standing outside behind a table loaded with cheeses, olives, greens, herbs, tomatoes, etc., Andrea puts forth a non-stop dialogue of Italian while he makes the largest and freshest panino you have ever seen. In addition to being entertaining, he takes care with each and every sandwich. Be prepared to wait….little did I know that it would be over 90 minutes from the time I got in line for my sandwich until I was able to take the first bite! This was one huge sandwich, that fed me for lunch and dinner - with some still left over.
Because I had spent so much time in the market and daylight was fading, I was only able to make a quick stop at the archeological site before my car meter was going to run out (for the second time!). The last thing I wanted was to get my car towed, so I grabbed the bus and hurried over to the mainland of Siracusa. In my haste to check out the Park Archeologico della Neapolis, I somehow completely missed both the Anfiteatro Romano and the Orecchio di Dionisio, and instead only visited the Teatro Greco!! I wasn't totally disappointed, because I had seem the amazing Greek theater in Taormina and knew I would be seeing more further along on my trip, but for anyone reading this, make give yourself more time here than I did when visiting Siracusa. Oh well, looks like I have yet another reason to return to Sicily!
SICILY ROAD TRIP - PART TWO: THE DETAILS
LOGISITICS:
Castiglione di Sicilia - Modica - Ragusa, It took me about 2 1/2 + hours to drive to Modica from my last hotel. From Monica to Ragusa is about 30 minutes. The day trip to Siracusa took a little more than an hour.
The roads in this part of Sicily are slightly less developed than those in the north, however considering the terrain — and the number of tunnels and large bridges that are required — they are well maintained and easy to navigate. Unlike in the north, there weren't any toll roads in this part of Sicily.
I enjoy driving and even if you don't, remember that most any gas station in Sicily has a "bar" (coffee shop) attached to it, where you can get an espresso or cappuccino that is 10x better than anything you can get at high end coffeehouses in the US!!! Seeing a $5,000 coffee maker at a gas station cafe never loses it's charm!!
When driving into the small towns, I ALWAYS park in a parking lot (parcheggio) and then walk from there. Towns in Italy are notorious for having very narrow streets, sometimes one way, and sometimes pedestrian only. For me, it's not worth the stress of trying to find street parking or getting stuck, losing a side mirror, or scraping the sides of my rental car!
ACCOMMODATIONS:
I spent 4 nights in this region, at two different locations only because my top choice could accommodate me for just 2 nights due to my late booking. I was surprised to find that, even in the latter part of September, Sicily is busy with tourists.
Near Modica I stayed at B&B Masseria Quartarella (many times, what would be called an "agriturismo" on the mainland of Italy (i.e. a farmhouse) is called a "masseria" in Sicily). This place proved to be truly special! B&B Masseria Quartarella is an ancient farm that has been lovingly reconstructed by the owner Francesco. The farm is located on a hill a short drive from Modica — on a clear day you would see all the way to Malta! My room was very large (able to accommodate 4 people due to a loft space above with two twin beds), the grounds were beautiful, and the breakfast was amazing. Most importantly, the owner Francesco was lovely, friendly, and extremely helpful by providing maps and recommends for each town I wanted to visit. It was very reasonably priced as well. I wish I could have stayed here all 4 nights or more! I HIGHLY RECOMMEND STAYING HERE.
Near Ragusa I stayed at the Artemisia Resort. This is a slightly more impersonal place, but also in a lovely setting. There a wonderful pool, and one sunny morning I actually set up my mat next to it for a much needed yoga practice! The rooms are nice, but more standard than special. Breakfast was great and served outside on the terrace. The staff was friendly and helpful. Even though the Artemisia Resort was a bit of a let down compared to Masseria Quartarella, I would still recommend staying here.